Welcome to the Really Reasonable Ribbon December Blog Hop! I am thrilled to be the Guest Designer this month.
You should have come here from
Bonnie's blog
, but if you got lost on the way or want to go back to the beginning, head over to
Really Reasonable Ribbon Ramblings
.
The Design Team is featuring projects made with the ribbon selection from the
Monthly Ribbon Club
.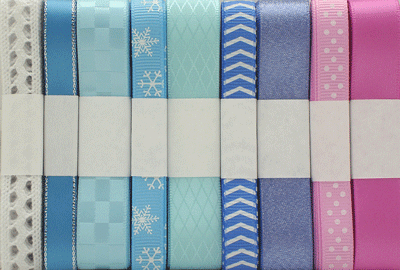 Just look at the gorgeous assortment of colors & textures we had to work with!
I have been wanting to make a non-traditional tag Advent calendar for a while, and when these ribbons landed in my mailbox I immediately went to work.
If you have been here before, you now that I like a sense of order in my projects, so all my tags are white and limited to three shapes (in a deliberate sequence LOL) and tied with a pink Baker's Twine. The numbers are die cut with an ancient Sizzix Alphabet die, Block Party, in two colors.
I also had on hand numerous die cut snowflakes in various shades of pink and blue cardstock, vellum and felt.
For the first dozen or so tags I just pulled ribbon from the package and tied bows, knots, twisted and layered without too much thought.
For remaining tags, I paid a little more attention to balancing the colors and decided to work with only the ribbons I had already used. In the end, seven of the nine ribbons from the collection are on the tags. I LOVE that they co-ordinate with no effort on my part!
Just a few close-ups of my favorites.
This is seriously like trying to pick a favorite child - I just can't seem to narrow it down!
OK, I'll stop now LOL!

All the tags are doubled up for extra stability, which also allowed the ribbon ends to be hidden on a few of the tags.


I would love to hear which is your favorite and why!


There is still plenty of ribbon left and, with two nieces and a cousin expecting in the spring, don't be surprised if you see these ribbons on baby cards in the near future.
Now it is time to head over and see what beautiful project
Cheryl
has created for us this month.
Thanks for stopping by,
Jacquie
The wire card hanger came from a local scrapbook store (Paper Tales in San Diego) and was very reasonably priced (under $15?) - this time of year I would keep an eye out for a holiday card holder on sale.