It's been an interesting week around here as I have been knocked down by a terrible head cold. My family watched in shock as I dragged myself off to bed by 8 o'clock for the last few nights, went through boxes of tissues and stripped the poor lemon tree bare so I could concoct the number one, sure thing cold busting solution: hot lemon honey drinks. I'm feeling 90% better and, even though I'm not drinking coffee this week, I wanted to join in the
2015 Fall Coffee Lovers Blog Hop
. You seriously need to check out the wonderful coffee themed cards that have been linked!
My card is inspired by Tracey McNeely's card for the
Muse Challenge #135
. Part of the card base is taped off, the leaf pattern stamped in fall colors and a couple of score lines added to reinforce the edges of this panel. The MFT sentiment is partially stamped on the Memory Box die cut and partly directly onto the card base.
A felt sleeve adds texture and the Lawn Fawn leaf die cut echos the leaf die cut on Tracey's card.
I die cut the Friendship Jar Shaker twice from black cardstock and once from black foamboard and two transparency pieces from the full jar die. This allowed me to put together a see-through shaker that was finished both front and back.
Another black cardstock jar is die cut for the back of the box.
For today the box is stuffed with tissue paper, but I love that when it is stuffed with treats, it will look like a jar full of goodies from the front!
This fun little treat box is also being linked to the Simon Says Stamp Wednesday Challenge Blog where
Anything Goes
this week.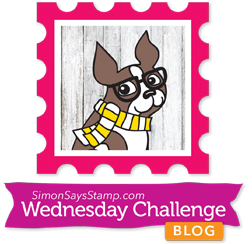 Some things in life can't wait for mom to feel better. A cold is bad enough, but a cold + an afternoon at the DMV? The good news is we have a new licensed driver in the house! He is out on his first independent drive to get his haircut and I'm almost not nervous ;)
Thanks for stopping by,