Even though Easter is relatively late, it has kind of snuck up on me. With my husband's Greek heritage, we celebrate the Eastern Orthodox Easter and can have a gap from 1 to 5 weeks between our Easter and the date celebrated by Western Christian churches. Every few years, the calendars line up and this year we are all observing Easter on the same weekend. After roasting a whole lamb and having a big Greek style party last year, things will be a little quieter this year.
Writing that paragraph reminded me of a couple of things I still needed to do, so I interrupted this blog post to put on eggs to boil. It isn't Greek Easter without red eggs to crack!
Instead of making cards for my kids, after seeing Jaclyn Miller's Valentine tags for
CASE Study #187
, I decided to make a couple of gift tags for their baskets.
How clever to make the little gift bags from wax paper! These gift bags inspired my tags, where a transparent front panel allowed the Tim Holtz mini-blueprint stamps to shine through.
This scalloped tag die from PTI comes in two sizes, so I cut the smaller tag from a transparency and sewed it on the larger stamped tag (yes, you read that correctly - I SEWED on a papercrafting project).
The top tag is lined up so there is a little bubble of air to allow the sequins to move freely.
For the bunny tag, a transparent panel is cut slightly larger than the stamped panel and carefully sewn on the tag. I also cut a second tag to back the tag and hide my threads. This also gives me a nice spot to write a greeting.
Just one more photo to capture the Wink of Stella on the bunny. When out with my daughter last weekend she was horrified to see the mall Easter bunny was brown and adamantly told me Easter bunnies should only be white.
These tags are being linked to a few more challenges: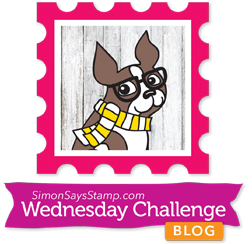 I have desserts to bake, baskets to finish off and eggs to dye and I'm envious of our Canadian family and friends enjoying an extra long weekend!
Thanks for stopping by,